Sand Kit

Sand Kit is premium grade screened and washed playground sand. Approximately 3-3/4 cups of sand packaged in 5 tubes for easy handling. This Sand Kit package is more than enough for the ps2107 Pretty Little Things pattern.


psh054 Metal Stays (for the Tool Tote or Boxy Tote)

psh054 Metal Stays


psh058 Metal Stays (for The CUBE)

psh054 Metal Stays


Clear Vinyl, 12 Gauge 18" x 27"

Perfect for the pattern ps2010 W.I.P. set of 3 project bags. Easy to stitch, great for bags, totes, and other craft projects. Package contains 1 roll 18in x 27in 12gauge clear vinyl.


Fabric Adhesive

FabricFuse QUICK BOND PERMANENT FABRIC ADHESIVE by thermoweb , 2.1 fl oz squeeze bottle



Out of Stock
Oval Turnlock Set - Nickel (psh004)

psh004 Oval Turnlock Set - Nickel


Oval Turnlock Set - Gun Metal (psh006)

psh006 Oval Turnlock Set - Gun Metal


Oval Turnlock Set - Antique Brass (psh005)

psh005 Oval Turnlock Set - Antique Brass


psr456 Turn Lock Template
psr036 Circle Guide
Word Bar Assortment

3 randomly assorted Inspirational Quote bars


Word Circle Assortment

4 randomly assorted Inspirational Quote circles


Tote Hardware Set- Shiny Nickel (psh014)

Tote Hardware Set


Tote Hardware Set- Antique Brass (psh015)

Tote Hardware Set


Tote Hardware Set- Shiny Gun Metal (psh016)

Tote Hardware Set


Roxy Hardware Set--Shiny Nickel (psh037)
Roxy Hardware Set--Antique Brass (psh038)
Roxy Hardware Set--Shiny Gunmetal (psh039)
6 piece 3/4" Hardware Set--Shiny Nickel (psh024)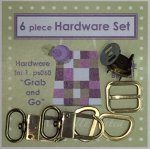 6 piece 3/4" Hardware Set--Antique Brass (psh025)
6 piece 3/4" Hardware Set--Shiny Gunmetal (psh026)
1" Swivel Hook Set - Nickel - psh007

psh007 Swivel Hook Set - Nickel


1" Swivel Hook Set - Antique Brass - psh008

psh008 Swivel Hook Set - Antique Brass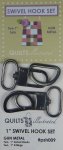 1" Swivel Hook Set - Gun Metal - psh009

1" Swivel Hook Set - Gun Metal


1" Rectangle Ring Set - Nickel - psh010

psh010 Rectangle Ring Set - Nickel


1" Rectangle Ring Set - Antique Brass - psh011

psh011 Rectangle Ring Set - Antique Brass


1" Rectangle Ring Set - Gun Metal - psh012

psh012 Rectangle Ring Set - Gun Metal


1/2" Swivel Hook Set - Nickel - psh001

psh001 Swivel Hook Set - Nickel


1/2" Swivel Hook Set - Antique Brass - psh002

psh002 Swivel Hook Set - Antique Brass


1/2" Swivel Hook Set - Gun Metal - psh003

psh003 Swivel Hook Set - Gun Metal