psh054 Metal Stays (for the Tool Tote or Boxy Tote)

psh054 Metal Stays


psh058 Metal Stays (for The CUBE)

psh054 Metal Stays


Tote Hardware Set- Shiny Nickel (psh014)

Tote Hardware Set


Tote Hardware Set- Antique Brass (psh015)

Tote Hardware Set


Tote Hardware Set- Shiny Gun Metal (psh016)

Tote Hardware Set


Roxy Hardware Set--Shiny Nickel (psh037)
Roxy Hardware Set--Antique Brass (psh038)
Roxy Hardware Set--Shiny Gunmetal (psh039)
Oval Turnlock Set - Nickel (psh004)

psh004 Oval Turnlock Set - Nickel


Oval Turnlock Set - Gun Metal (psh006)

psh006 Oval Turnlock Set - Gun Metal


Oval Turnlock Set - Antique Brass (psh005)

psh005 Oval Turnlock Set - Antique Brass


psr456 Turn Lock Template
psr036 Circle Guide
Word Bar Assortment

3 randomly assorted Inspirational Quote bars



Out of Stock
Word Circle Assortment

4 randomly assorted Inspirational Quote circles


Clear Vinyl, 12 Gauge 18" x 27"

Perfect for the pattern ps2010 W.I.P. set of 3 project bags. Easy to stitch, great for bags, totes, and other craft projects. Package contains 1 roll 18in x 27in 12gauge clear vinyl.


Fabric Adhesive

FabricFuse QUICK BOND PERMANENT FABRIC ADHESIVE by thermoweb , 2.1 fl oz squeeze bottle



Out of Stock
Sand Kit

Sand Kit is premium grade screened and washed playground sand. Approximately 3-3/4 cups of sand packaged in 5 tubes for easy handling. This Sand Kit package is more than enough for the ps2107 Pretty Little Things pattern.


Magnetic Snaps--Shiny Nickel 18mm (3/4") 2 sets (psh040)
Magnetic Snaps--Antique Brass 18mm (3/4") 2 sets (psh041)
Magnetic Snaps--Shiny Gunmetal 18mm (3/4") 2 sets (psh042)
6 piece 3/4" Hardware Set--Shiny Nickel (psh024)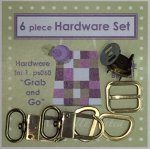 6 piece 3/4" Hardware Set--Antique Brass (psh025)
6 piece 3/4" Hardware Set--Shiny Gunmetal (psh026)
1" Swivel Hook Set - Nickel - psh007

psh007 Swivel Hook Set - Nickel


1" Swivel Hook Set - Antique Brass - psh008

psh008 Swivel Hook Set - Antique Brass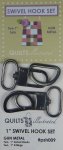 1" Swivel Hook Set - Gun Metal - psh009

1" Swivel Hook Set - Gun Metal


1" Rectangle Ring Set - Nickel - psh010

psh010 Rectangle Ring Set - Nickel


1" Rectangle Ring Set - Antique Brass - psh011

psh011 Rectangle Ring Set - Antique Brass


1" Rectangle Ring Set - Gun Metal - psh012

psh012 Rectangle Ring Set - Gun Metal


1/2" Swivel Hook Set - Nickel - psh001

psh001 Swivel Hook Set - Nickel


1/2" Swivel Hook Set - Antique Brass - psh002

psh002 Swivel Hook Set - Antique Brass


1/2" Swivel Hook Set - Gun Metal - psh003

psh003 Swivel Hook Set - Gun Metal